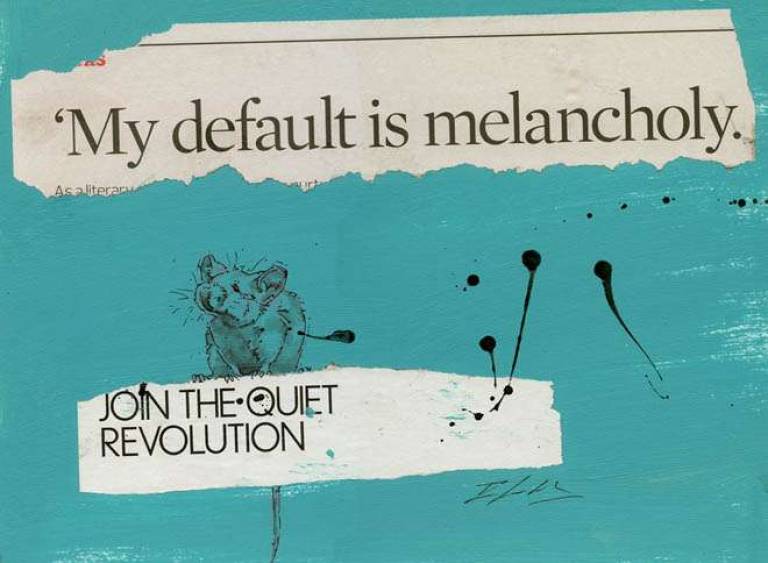 Little Matters is the work of Norfolk-based artist, Rachel Lockwood. It gives us a glimpse into the mind of an artist struggling to make sense of the world. Through these paintings and drawings, Rachel uses the meekness and innocence of mice and ducklings as a foil against the absurdities of our political, financial, consumer and media-driven world. Little Matters is a small body of work that Rachel calls her guilty pleasure. It allows her to keep in touch with her skills learned as a scientific illustrator and as a foil to make sense of our abstract world.
Originally from Sheffield, Rachel Lockwood now lives in Cley, North Norfolk, where she shares her studio with Brutus the stray cat and several mice. Driven by nature, Rachel uses her surrounding natural history to inform her work. From the bird pools on the Cley Marshes Reserve, to the local woodland and heath, Rachel is also planting her own reserve on the land that surrounds her studio. With such neighbours as deer, hares, foxes, nesting tawny and barn owls and many other birds – there's always much to inspire.
1984 Fine Art & Design, Psalter Lane Art College, Sheffield. 1985–1989 BA Hons, Scientific Illustration, Middlesex Poly. Observing nature, including human form (alive and dead).
Red Hare Publishing have have made a limited edition book to accompany this exhibition. Each of these 500 books will be signed and numbered by the artist Rachel Lockwood, making each copy extra special - available from the Red Hare Publishing website.
Please note, price shown is for unframed prints (unless otherwise stated in the description).